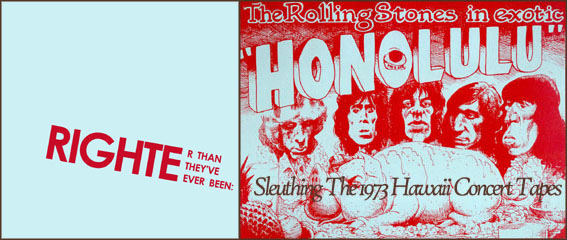 by
Harold Colson
Recordings of the Stones' January 21-22, 1973, concerts in Honolulu have long been prized by collectors, and the recent arrival of a previously unreleased Hawaii '73 show on CD has rekindled excitement about that magical interlude in paradise. For all their appeal, however, these Hawaii performances have remained clouded by uncertainties and misconceptions, with basic facts like the name of the concert venue, the concert times, and even the number of shows performed subject to competing claims by our best authorities. For example, reports of 2, 3, or 4 Honolulu shows can be gathered from reputable print and online sources. Likewise, an identical concert tape can be credited on different CDs as a show from the 21st and as a show from the 22nd, or touted as an "afternoon" show and as a "second" show. Hoping at long last to cut through this confounding and unworthy tangle, I recently embarked upon a little newspaper research project to 1) establish the actual Hawaii performance dates and times and 2) match the available concert tapes to the show framework. I am pleased to report here that the evidence gathered makes a very convincing case for a new dating of the Hawaii recordings. Let's begin with a quick recap of the tapes themselves.
The Tapes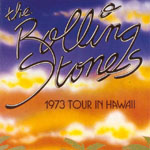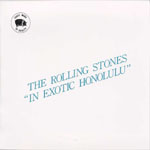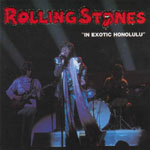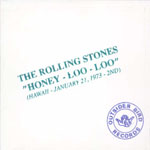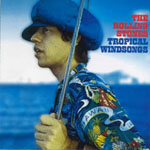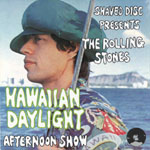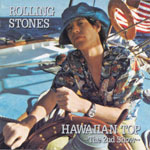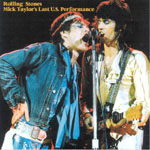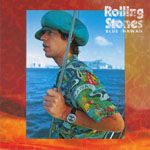 We now have very good audience recordings of three different Honolulu concerts. In order of their appearance in collecting circles, and labeled with my shorthand nicknames, the sources are:
   "The Original Tape" -- Source for assorted early LP boots and 
         the first wave of Hawaii CDs.  Captures fifteen songs running 
         approximately 70:33.  Found on: Honolulu 1973 (Golden Hit 
         Records GHR-003), 1973 Tour In Hawaii (Unbelievable Music
         UM 007), In Exotic Honolulu (Vinyl Gang Product PE-8), In 
         Exotic Honolulu (Vinyl Gang Product VGP-040, disk 1).  
         Attributed by VGP as 1st show of January 21.

   "The Live With Me Tape" -- A better quality tape of a hotter
         and longer show, including one song, "Live With Me," not
         found on the other recordings.  Also marked by vocals from
         two gents near the microphone, one of whom repeatedly calls
         for "Jumping Jack Flash."  First appeared on CD circa 1994
         without "Street Fighting Man," then later releases added 
         that show closer.  Most complete CD version, In Exotic
         Honolulu (VGP-040, disk 2), has 16 songs and runs 77:15. 
         Also found (incomplete or edited) on: Honey-Loo-Loo 
         (Outsider Bird OBR 305CD024), Tropical Windsongs (Gold
         Standard ZA 32), Hawaiian Daylight (Shaved Disc TSD002), 
         Hawaiian Top (Weeping Goat WG-025/026).  Typically
         credited as 2nd show of January 21.

   "The New Tape" -- Surfaced in late 1997 after languishing for
         nearly 25 years in a taper's cache.  Carries same 15-song
         set as "Original Tape" above, but is clearly a separate
         show.  Running time of 68:48.  Original release: Mick 
         Taylor's Last U.S. Performance (Contra Band CBM-18), which
         dates concert as 2nd show of January 22.  Second release: 
         Blue Hawaii (Vinyl Gang Product VGP-212)
Note how the datings alleged on the CDs give us a neat, sequential pair of concerts on the 21st, but only a disconnected 2nd show on the 22nd. Are we missing an early show tape for the 22nd, or are the date credits wrong? As a librarian, I found myself strangely drawn to the microfilm room.
The Newspaper Reports of Dates and Times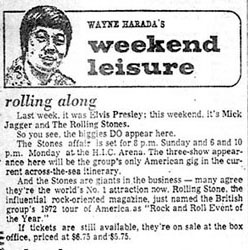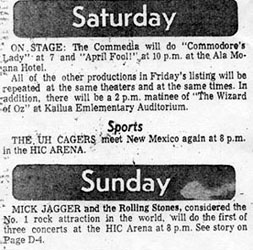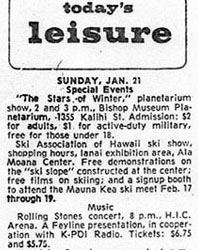 With the recordings in hand, my next step in disentangling the Hawaii snarl was to get a reliable framework of the actual dates and times of the various shows, as our standard reference volumes do not offer complete details. Gladly, contemporaneous press reports and notices in the Honolulu Star-Bulletin and Honolulu Advertiser (daily newspapers available on microfilm through interlibrary borrowing) are quite explicit and consistent on these basic tour points, which have eluded us much too long: the Stones would do three performances at the Honolulu International Center Arena, with one show on Sunday the 21st and two shows on Monday the 22nd. Specifically, the concert times were:
Sunday, January 21, 8 p.m.
Monday, January 22, 6 p.m. & 10 p.m.
Both Honolulu dailies reviewed the Sunday show in their January 22nd issues, and coverage of the Monday shows ran in two youth/entertainment biweeklies, Sunbums and Split Second. (The lengthy Sunbums review of the third and final show is especially rich.) Overall, the local details align perfectly with our standard national press account of the Hawaii tour, the March 1, 1973, cover story in Rolling Stone magazine by Ben Fong-Torres. This article describes "the three concerts" as one on Sunday night ("loud") and two on Monday night (a tired show followed by the best show). Clearly, our assorted collectible Hawaii CDs have been wrong to claim 1st and 2nd shows on the 21st. Which tape, then, captures the real Sunday singleton, and which recordings belong on Monday?
The Matching Game
With three confirmed concerts and three available tapes, the research process now turns into a small matching exercise, using external and internal markers to fit each tape peg into its proper concert hole, so to speak. By external markers I mean press reports with unique identifying information about a particular performance, perhaps a song list, a lyric change, or a quotation of stage dialogue, something which can then be found on only one of our recordings. Internal markers, on the other hand, come from the tapes alone and are sufficient by themselves to help place a concert. Based on my analysis of the evidence, the pairings emerge in the following manner.
Sunday, January 21, 8 p.m. show = "Live With Me Tape" = VGP-040, disk 2
A strong set of external and internal markers place the "Live With Me Tape" as coming from our very first Honolulu concert, the single gig on Sunday. (To their credit, the boot CDs are correct in dating the "Live With Me" show to January 21; their error is calling this concert the 2nd one of the day.) The Star-Bulletin review of the opening show quotes only one piece of Jagger dialogue ("I can't see your faces, but I can see your binoculars. It's like a lot of little cat eyes staring at ya."), and this very comment is captured on our tape just before YCAGWYW. (Actually, these lines are preserved only on Honey-Loo-Loo, Tropical Windsongs, and In Exotic Honolulu, disk 2; Hawaiian Top and Hawaiian Daylight edit them out.) A second external marker is available through the Rolling Stone magazine story on the Hawaii sojourn. Here the reporter notes that at the "first show, January 21st," Jagger altered the words to "Sweet Virginia" by singing "Thank you for your wines, Ah-No Lew-loo." As with the distinguishing, one-time "cat eyes" stage line, this lyric change is found only on the "Live With Me Tape" (the others have the standard California wine reference). In addition, two internal markers provide further confirmation that the "Live With Me Tape" is the Sunday show. Just before "It's All Over Now," a fan near the taping microphone remarks, "I'm glad I'm coming back tomorrow night," which makes sense only if it were spoken Sunday in anticipation of one of the Monday performances. Finally, Jagger inserts a unique "Would I lie on Sunday?" line into YCAGWYW.
Monday, January 22, 6 p.m. show = "Original Tape" = VGP-040, disk 1
There are no compelling external markers for this attribution, although the songs on the tape do match the setlist reported for this concert in Karnbach & Bernson's largely authoritative volume, It's Only Rock 'N' Roll. The best internal evidence for the "Original Tape" matching to the early show on Monday comes when Jagger thanks the audience for attending on this "lovely afternoon" (spoken just before "It's All Over Now"). Fong-Torres characterized this concert as a downer compared to the first show, and this tape captures a somewhat tired, slow performance indeed. Moreover, with two of our three tapes accompanied by convincing independent evidence for their placement, the "Original Tape" has nowhere to go but this slot. Thus, the In Exotic Honololu releases were right to label this recording as an early show, but they were off by a full day: the so-called "afternoon" gig actually took place Monday instead of Sunday.
Monday, January 22, 10 p.m. show = "New Tape" = CBM-18 / VGP-212
The original C-60 cassettes for this newly surfaced recording are inscribed by the taper's hand as "Honolulu 1/22/73 10:00," an authentic date and time notation I was privileged to view months before gathering separate verification of a 10 p.m. show that day. On the tape Jagger returns to a "good evening" greeting and apparently remarks that "we haven't been here for many, many minutes," which may be a playful reference to the brief break between the night's shows. Fong-Torres reports that this show is "the upper, the breakthrough the Stones needed" and that the charter-flight fans from San Francisco, Los Angeles, and elsewhere on the mainland "are here raving it up." Sure enough, this is the only tape that has big cheering from the audience at the California wine reference in "Sweet Virginia." (Today's listeners may weep at the 3:56 mark of "Street Fighting Man," when Taylor's ascending solo, his last within our shores as a Stone, gets snuffed out by his bandmates at the very point we can imagine it moving on to Wembley-style glory.)
Some Final Thoughts
When viewed in the proposed sequence, these shows and tapes actually conform to a common Stones tour pattern: a first performance with some setlist experimentation (in this case, "Live With Me"), followed by shows with truncated song repertoires and playing that improves over time. At the same time, this new dating corrects some published concert chronologies (Giuliano, Zentgraf, Aeppli's Ultimate Guide), confirms some others (Karnbach & Bernson, Aeppli's Heart Of Stone), and leads to a few surprises when checked against ROIO sleeve notes. For example, both disks on Vinyl Gang's beautiful In Exotic Honolulu set carry faulty show dating, as do six other Hawaii '73 CD titles in my collection. On the other hand, one early Hawaii LP, Tropical Windsongs (Devil's Disciple Records DD-6/PP-12273), was absolutely right with all of its relevant liner note facts: there were three performances, they were held at the Honolulu International Center, and the album itself contains tracks from the early show on January 22. Well done, you unknown copywriter of the vinyl age: your boot was "righter than" from the outset.
Aloha to all readers. Thanks for visiting.
Originally published in Sticky Fingers Magazine (volume 3, issue 5/6).
This revised and updated version contains clippings and graphics not found in the magazine.